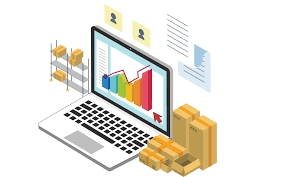 Inventory management has a great influence on any business and is a vital part of any company, especially in the eCommerce world. It should be handled by an efficient technology that provides real-time statistical information. This way you'll be able to control your stock, administrate your data and make important decisions that could save your business from falling behind.
Keeping inventory levels correct is one of the most important aspects of any E-commerce business. Not only could you go out of stock, but end up losing potential sales as customers will go elsewhere in search of their products. Managing your inventory can be a daunting task, especially when you have a large number of products to manage.
In this article, we have compiled a list of the 5 best inventory management software in India. This list is prepared after testing and analyzing various inventory applications available in the market. If you are also interested in one of this stock management software, keep on reading.
1. Xsuite
XSuite has been described as a "one-stop-shop" for inventory management. This is because it not only helps you monitor your inventory but also other aspects like invoicing, sales, accounting, and marketing. The platform also offers a mobile app that allows you to stay on top of your business no matter where you are.
Truly one of the most comprehensive inventory management systems available, XSuite is ideal for businesses of any size. Whether you are dealing with large or small inventories, offline or online sales channels (or both), this system can handle it all. If you want an easy-to-use platform that will help you manage every aspect of your business efficiently and seamlessly, XSuite should be at the top of your list!
2. Tealpplix
Tealpplix is an inventory management application in India. It is a cloud-based system that allows you to manage your stock with ease. This application also helps you to track sales and purchases efficiently. Tealpplix has great features like real-time tracking, mass update stock records, and real-time reports.
3. Zadinga
Zadinga Inventory Software is one of the best inventory management applications in India in 2022. Zadinga Inventory Software helps business owners and managers to manage their businesses more efficiently under a single roof. Zadinga Inventory Software helps you to save time and money, improve productivity, eliminate errors, and make better business decisions. Zadinga Inventory Software offers services like inventory management software, supplier-vendor management, inventory costing & accounting, etc.
To date, we have served more than 5000 clients all over India with our best inventory management applications. We are offering a free demo for our best inventory stock management applications or you can drop us a mail for a live demo.
4. Apollo
The Apollo is a mobile application available for Android and iOS platforms. It allows you to manage your stock with ease. It keeps a record of all the orders made by you and gives you real-time updates about your sales and purchase details. You can also use this app to keep track of your entire shipment as well as invoicing details.
5. Vendly
Vendly is a mobile application available for both Android and iOS platform users. It provides services relating to order management and on-demand delivery management. The task of managing deliveries, processing orders, and other tasks related to it can be done via this app easily.
Here are some points which you should consider while choosing inventory management software:
User-Friendly Interface
Customization Facility
Inventory Updates
Reporting Options
Inventory Management Applications
Conclusion
Catering to the needs of a wide spectrum of a business houses, Zadinga has been a pioneer in providing Finest Inventory Management Software Solutions. Our Top 5 Inventory Stock Management Applications in India 2022 help a business run smoothly by boosting its efficiency and productivity, assisting you with all facets of your inventory.
Also read about:
Who is Rex the dinosaur from Paris
The Rapid Rise of eLearning New Educational Opportunities
Playing the Right Games